About Life Coaching: Living your Best!
Create Your Roadmap to Your Best Life
and Then Train your Brain to Get You There!
Most of us don't think about the bigger picture of our lives until we are in transition- between jobs, between relationships, divorce, moving to a new area, even starting a new school. These times of transition can feel difficult, but they can be incredible times to re-evaluate our life, and even redefine who we are and what makes us happy.
Whether you are looking for a new job, new relationship, or simply ready to make a change in your life - here you'll find the tools and support to make the shift happen and really move your life forward!
Creating a life you love might seem out of reach, but now with practical tools, positive mental strategies, and the ability to train your brain, you will be amazed at how quickly you can begin loving your life - when you train your brain to help you!
You can begin to feel great about you when your brain knows what to do!
" The biggest problem of my whole life, I constantly felt worthless and ugly. Since working with Holly, I feel securely comfortable with myself. We changed the pattern of feeling fat and ugly to looking at my health habits. Now, I feel good, I look pretty, I am truly beautiful, I can wear anything and feel comfortable with myself." --

--Steph, Student Chicago, IL
There are 3 parts to Creating A Life You Love:
1. Thought Pattern Management Clears the Negative Past History
2. Change your Mental and Emotional Habits (Train your Brain!)
3. Get Clear About your Life Purpose, Mission and Vision
Step 1: Thought Pattern Management Clears the Past Negative History
It's hard to create a lot of forward motion if your mind keeps getting pulled into past negative thoughts and emotions. A lot of self help books tell you "Think Positive" but they don't tell you how. That's because these mental patterns are wired into your brain and run automatically as the programs of your mind or your mental software.
The past negative history sucked the first time! We don't want to relive it, dig up details or talk about it over and over - our brain just needs to know what to do with it instead! In fact the more you talk about it, the more it gets wired into your brain. We don't need to go into the old stories, we just need to know what you mental software you'd rather be operating from.
Now, with a single session and the tool of Thought Pattern Management, we can teach your mind a positive mental strategy for letting go of the past negative history - allowing you to be more focused in the present moment and with a greater ability to enjoy your life! This single session is a like upgrading your mental software.
" After the Thought Pattern Management Session, I found myself using the tool in difficult conversations, and coming back to an awareness of being grounded in compassion and understanding. It has also helped me be more intentional with my life purpose and mission, living that as a focus in my life."
--Alex McMillan, NW Personal Training, Vancouver, WA
This single session offers so much value, that I have made it foundational to all the Life Coaching work that I do. In one session, you'll feel the weight of the years lift, the dark clouds that we have learned to cope with - dissolve. This single session helps you let go of the negative past, connect with the core of who you are, and create a solid foundation for well-being.
Once your mind learns this strategy - life becomes easier. Then, with advanced tools, we can help you change negative mental and emotional habits that have been getting in your way. All of these are just habits of the mind we learned, and then our brain turned them into habits because we repeated them so much!
Step 2: Train your Brain to Break Free of Mental and Emotional Habits:
| | | |
| --- | --- | --- |
| Anxiety | Depression | Worry |
| Negative Self Talk | Self Criticism | Stress |
| Old Habits | Addictions | Cravings |
| Lack of Self Esteem | Negative Thinking | Lack of Focus |
| Boost Motivation | Gain Confidence | Achievement |
These patterns may seem out of control, but they are just habits, and we can actually train the brain to think and feel differently - quickly and easily! Our thoughts and feelings get in the way of whether we follow through with our goals, and have everything to do with our motivation and performance.
By integrating NLP, the tools for training your brain, we can surpass the results you would get working with a regular Life Coach. When you are empowered to take charge of your thoughts and choose your emotions, you will move forward like never before- achieve your goals - and Create a Life you Love!
Step 3: Get Clear About your Life Purpose, Mission, and Vision
It's Time to Live your Best Life Now! With so many demands on our time, it's easy to lose what's most important in the daily grind if we aren't paying attention. Working with a Life Coach can help you clarify what you want, stay on track with your goals, build your most compelling future, and inspire you to make your dreams reality!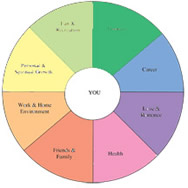 Our lives have dramatically changed in the last 50 years. Never before has it been so complicated. We not only need to work, to balance budgets, watch finances, prepare for retirement,buy stuff, buy more stuff, replace stuff that has broken, organize our stuff, backup stuff on the computer, upgrade to new techno stuff,...The list goes on... It's a wonder we have time for the things in life that hold REAL value! Get clear about your life purpose, priorities, and know where you want to be!
Life Coaching Works! As your Life Coach, we'll design your life around your highest values, and clarify your personal life purpose, mission, and vision - and you'll build the foundation for creating your best life now! Life Coaching has been wildly popular with a wide range of professionals from the corporate executives to business owners and individuals as a way to boost work life balance and life fulfillment.
Life Coaching is for anyone who wants to achieve their goals, create success, and grow as a person! Life Coaching empowers you to find your own answers and take charge of your success. Here are just a few benefits a Life Coaching program can offer:

Step Beyond Your Obstacles

Clarify What's Most Important

Prioritize Your Steps

Stay Focused and On Track with Your Goals

Gain New Perspectives and Insights

Find Your Personal Sources of Passion and Inspiration

Learn what Keeps You Motivated

Propel Yourself to Your Success and More!
With the added tools of training your brain for success - there is nothing that can stop you from living your purpose, fully participating in your life and living your best!
"I started working with Holly after ending my second marriage. I was very emotionally depressed and negative about the prospects for the rest of my life. Holly was able to redirect my focus to the positive aspects of my life which has greatly improved my health and well being. Holly's life coaching also helped me to examine what I was looking for in relationships. The insights I gained through the coaching experience will make my future relationships more satisfying and successful. I believe everyone can benefit from the life coaching experience and highly recommend Holly as an NLP Coach."
---Barry S., Ph.D.-Research Biochemist
Call Now for a FREE Consultation
503-351-8021
successss
It's Time to Unlock your Potential, Believe in Yourself, Find your Confidence, and Move your Life Forward! Yes, You can have the life you want, and together we can make it happen! Why wait? It's time to stop struggling - It's Time to Live your Best Life Now!
Student Coaching | Health Coaching | Weight Loss | Business Coaching