Living Your Best Life Now! Ebook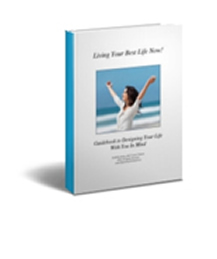 Do you wonder if you your life was meant for more? Would you like to gain clarity, focus and direction with your life?
Hi, I am Holly Stokes, The Brain Trainer, I help busy professionals create life direction and focus, and stay on track with what's most important. With our busy lives, it's easy to get lost in the daily grind.
I designed Living Your Best Life Now Guidebook with some of the best Coaching tools to help you identify what's most important to you, define your best direction, and discover your personal sources of motivation and inspiration to move your life forward. Yes- you can have the life you want, and with extra support and essential tools - you can make it happen!
I've brought together some of the best Coaching tools, tips, and playsheets for designing your life with you in mind. Gain clarity, insight and direction with your best life now!
Here is just a sampling of what this interactive guidebook will help you discover:

Assess Where You Are Now

Understanding Your Big Picture

Knowing Your Values

Knowing Your Strengths, Talents, and Abilities

Do What You Love: Love What You Do

Knowing your Heart's Desire: Your Compass to Your Life Purpose

Clarifying your Life's Purpose and Mission

Defining Your Vision for Living

Creating The Essence of Your Best Life Now

Living By Your Priorities: Prioritizing with Purpose

Staying Focused: Engage Your Mind for Results

Conscious Living Guide

Cultivate the Positive

Tracking Your Results
Simply download this guidebook for only $9.95 and get started now on your journey to living your best life now with clarity and focus!
Here's what people are saying about Living your Best Life Guidebook:
"I feel inspired about my life again!" --Molly P.
"The exercises were very thought provoking, I feel like I know myself at a deeper level than before." --Chris Markette
"As I created my life compass with the core values, a light bulb went off in my head, and explained so many of my choices and motivations. I have a clarity with myself that I hadn't known before." --Mary T.