Motivation for Exercise
Do you know you should exercise, but you just can't make yourself do it? If you struggle with motivation, I have the solution for you. In over 6 years of teaching healthy lifestyle classes, I've found that the 'just do it' doesn't cut it when you are struggling with motivation.
What we really need is to change our thoughts and feelings about exercise and fitness so that we can be motivated and look forward to a great workout.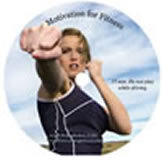 Motivation for Fitness Hypnosis CD. Next time you are feeling low on motivation, simply listen to this audio. This motivational CD uses positive imagery, breathing, and focus skills to get you up and moving in no time!
You'll love how you feel as this hypnosis style CD of guided imagery walks you through a guided imagery process to focus on all the positive benefits of a great workout! Use this hypnosis style CD regularly as a great way to stay on track with your health and fitness goals. Let fitness become an easy and natural part of your life!
"After listening to Motivation for Fitness CD, I went out and joined a gym. It got me on a path of regular exercise and I feel great! -- Misty W. Vancouver, WA
How do I fit one more thing into my schedule? All you need is 15 minutes, listen while you are getting ready. Listen to Motivation for Fitness before you plan to workout, while you are getting ready, even while you are doing houswork! Listen to Motivation for Fitness during those times when " I know I should workout - but I feel lazy." Listen when you feel a lack of motivation or just don't want to do it.
You'll find your attitude about fitness and movement changing, loving your workouts, and feeling great!
What fitness can do for you!

Decrease feelings of stress

Increase your energy

Safeguard your health

Recycles the stress hormones cortisol and adrenaline

Keeps your heart healthy

Lowers your cholesterol

Gets you in shape

Boost your self esteem

Lift your mood

Feel good - Look great!
You'll be feeling better and looking great as you incorporate regular fitness into your day.
"This CD really works, I just wasn't feeling motivated and decided to listen to the CD. 15 minutes later, I had my running shoes on and was in the right mindset for a great workout."
-- Kim S, Vancouver, WA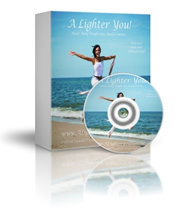 This Motivation for Fitness CD is part of the 6 part CD set, Mind for Body Weight Loss CD series. This six part hypnosis CD series is designed to change your mental patterns, and bust through the mental roadblocks that get in the way of achieving your healthy lifestyle and ideal weight.
Wouldn't it be great if you naturally started to reach for healthy foods? What if you looked forward to a great workout with enthusiasm? What if weight loss were easy and natural for you instead of a struggle?
Use all six Hypnosis CDs for best results. Here's whats included in the six part Mind Body Weight Loss Hypnosis CD series:

Step Into Your Healthy You

Curb Your Cravings

Motivation for Fitness

Boost Your Metabolism

Release Your Reasons

Enlighten Your Body Image
Simply listen to the CDs, and they will install positive thoughts and feelings about your healthy lifestyle, fitness, and achieving your ideal weight.
Get the Complete Homestudy Course comes with the six hypnosis weight loss MP3s plus the two books:
A Lighter You Train your Brain to Slim your Body which focuses on advanced mental strategies for breaking free of the Clean your Plate Club, curtailing cravings, destressing, finding your motivation and more!
A Lighter You Health Coach's Guide to Nutrition in Action focuses on complex nutrition information, low glycemic eating and diabetic friendly, and makes it easy to follow guides for maximizing your natural weight loss.

Plus receive the bonus hypnosis MP3: Automatic Weight Loss. This MP3 download is only 15 minutes long, and it engages your unconscious mind to automatically help you slim down to your ideal healthy weight. It talks to your unconscious mind which is in charge of automatically regulating your body and helps your body slim down naturally.
Questions? Call Holly: 503-351-8021
| | |
| --- | --- |
| Get Motivation for Fitness Hypnosis MP3 | Get the complete Homestudy course, six hypnosis mp3s and two books! |
| | |
Read more Details Here This link will take you to my dedicated site for weight loss, with membership program. Read testimonials, get articles, recipes, and hypnosis downloads for lasting weight loss success. Plus, participate in live teleclasses.